Thursday, November 10, 2016
This post contains
affiliate links
.
I'm a little behind with posting our annual All Saints' Day celebration because life is full and staying up to 3 in the morning watching the election results this week doesn't exactly help with staying on top of anything, especially blogging. But, I'm slowly catching up on things so here's a recap of our November 1,
Feast of All Saints
, celebration...
Our family attended Mass in the morning then I hosted our annual All Saints Day party at my house for our homeschool group.
We had decorations like
this banner
that I made a few years ago from Jessica's blog at
Shower of Roses
.
I also hung up this banner in our kitchen that my friend T.D. made.
Jennifer at Catholic Inspired
and
Jessica at Shower of Roses
for the ideas and printables to put on the jars. I did make my own St. Lucy and Saints Mary and Martha labels :) I bought my plastic 1 pint mason jars at
Oriental Trading
. Another parent brought the plastic jars with blue lids and several parents filled a few each so it was definitely a group effort. Here's a photo I took of the jars before the rest of the guests brought theirs.
The big and little kids had fun guessing the amount in each jar.
When everyone finished guessing we announced the winners, but then we divided the treats among the 15 children present and put the treats into individual bags so each child had a bag to take home with candy to remind them of several different Saints.
Here are the 18 themed Saint jars we used. The candies in the jar relate to the life of the Saint or what he/she is the Patron Saint of:
St. Peter
:
goldfish crackers
St. Kateri Tekakwitha
:
candy corn
Our Lady of Mount Carmel
:
Rolo caramel
St. Patrick of Ireland
:
gummy worms
St. Thomas Aquinas (known in his youth as "The Dumb Ox")
:
Dum-Dum lollipops
St. Lucy:
chocolates wrapped in eyeball foil paper
Doctors of the Church
:
Smarties
St. Nicholas
:
peppermint candy
St. Bernadette of Lourdes
:
pretzel sticks
(St. Bernadette was collecting sticks when Our Lady appeared to her)
St. Francis
:
animal crackers
Holy Trinity
:
3 Musketeers
St. Adjuctor
:
Life-Savers
(Patron of swimmers, boaters, and drowning victims)
Saints Mary and Martha
:
M&Ms
Virgin Mary, Untier of Knots
:
root beer flavored Twists
St. Gertrude of Nivelles
:
KitKats
(Patron of cats and gardeners)
St. William of York
:
York patties
(Patron of York, England)
St. Isidore
:
candy pumpkins
(Patron of farmers)
St. Dominic
:
mini Milky Way bars
(Patron of Astronomers)
Each family brought a snack to share. I provided some "pious popcorn" and "All Saints are 'grape'" :)
We had our annual "Communion of Saints Cupcakes"
And my friend, K.C., made this Rice-Krispies cross cake as a way to remember the Year of Mercy with the red/blue coloring for Jesus' Divine Mercy and Baby Jesus in the middle and a little Eucharistic Host in the center.
Some of the adults and kids played
Saint Bingo
that I printed and laminated from
Jessica's blog at Shower of Roses
.
My friend, T.D., brought other games to play, as well.
*The Brothers' Fishing Hole: St. Peter and St. Andrew, fishermen of fish and of men
*Knocking Down the 7 Deadly Sins bowling game: Envy, Pride, Wrath, Lust, Gluttony, Sloth, Greed
Corporal Works of Mercy
and
Spiritual Works of Mercy
ring toss
At the beginning of our celebration, we prayed the
Litany of the Saints
and we also watched this wonderful video titled
How Does the Catholic Church Declare Official Saints
.
I forgot to also share this fun video called
The Saint Song
that I shared last year. I'll have to remember to play it at next year's All Saints Day party.
After we prayed and I played the Saint videos, each child dressed as a Saint stood up and told a little bit about their Saint's life and everyone had to guess who they were. Some were more obvious than others.
My 2 youngest children dressed up as
St. Rafqa
(a new to us and everyone Saint) and
St. Elizabeth of Hungary
.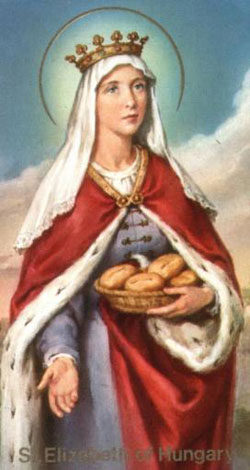 Saint Rafqa
Here a few photos of the group:
It was a wonderful day to remember and give honor to all the Saints who truly are timeless role models for our families and children!
Have a blessed week!