Friday, August 20, 2010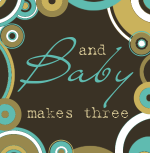 While visiting
this post at the Bloggy Moms site
, I found a great blog by Adriana at "
and Baby makes three
". To celebrate Adriana's 1 year blogversary she is giving away a $50 gift card from one of these great stores: (winner's choice)
PS: Be sure to check back at my blog on my birthday, Tuesday, Aug. 24, where I will have a post about my giveaway: a "Happy UNbirthday to you" hand made (by a dear friend) jewelry giveaway! Details coming to you soon!